Enough about boring parks bureaucracy and mean football players. I really need a ratings boost, so I've decided to go with the old standbys--sex and violence. Well, mainly violence. Though I did hear there was some canine coitus going on a few weeks back--between a neutered Australian Shepherd and a female pit bull. A good time was had by all (except maybe the owners).
Leaving aside the fact that it's really
not
a good idea to bring females in heat into the dog run--damn--if only I'd been there with the camera. Ocean, I don't know how you did it without testicles, but good on ya, mate.
I don't know if this is true at all dog parks, but at the Rocky Run, the girls often seem to have about twice as much fun as the boys (who are no slouches in the partying down department, let me tell you). My own Maximus can't wait to get to the run, but once there, immediately settles into a routine of chase the tennis ball, bring back the tennis ball, bug me to throw the tennis ball again, chase the tennis ball, bring back the tennis ball--you get the picture.
For Max, the Shepherd Mix who spent little time with other dogs for most of his previous existence, work is play, and vice versa. He loves being around the other dogs, but he doesn't particularly want to romp with them. I've seem him do a play bow only three times, and two of those times he was bowing to a CAT.
Whereas, for some of our resident hellions, such as Kyla, Hannah, Xena, and Augusta (names that end in 'a' sounds seem to invariably spell trouble, for some reason) play means chasing each other around at breakneck speed, wrestling like they're trying out for the WWE, and pretending to disembowel each other with their teeth. Very convincingly, I might add.
The following pictures of Kyla and Hannah's latest epic brawl were taken last week, and I was thinking they were a bit too grainy and blurred, due to poor light and fast movement--but then I decided that they looked artistic. I meant to do that. It's not that I'm a crappy photographer. Not at all.
Kyla to Hannah: Grrr! You're leading again!
Ben the Golden Retriever seems to want to kibbitz, but actually he's as ball-crazy as my Max, and is simply trying to play through.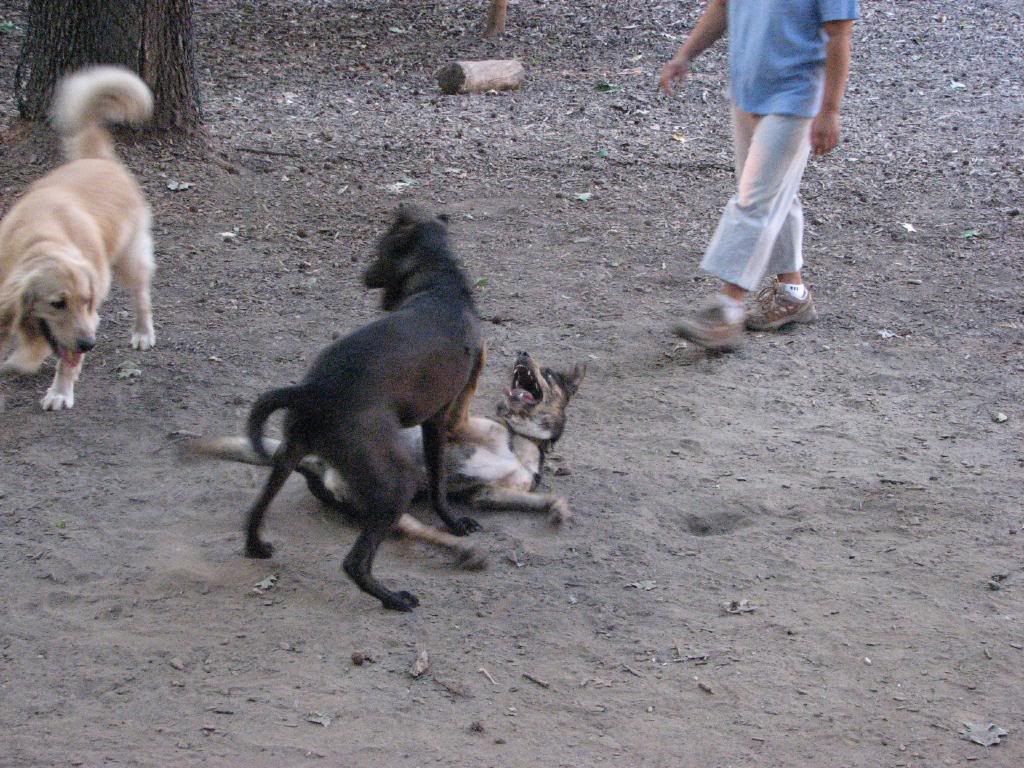 Jerry's Max (the Max of all Maxes) views all females who come into the run as part of his harem, and has no problem with them putting on martial displays to court his favor, and don't even bother to try telling him that isn't what they're doing.
Now girls, girls--plenty of me to go around.
Arghhh! Hannah delivers a crushing death bite to the throat of Kyla! Kyla stubbornly refuses to succumb!
Maybe a little TOO artistic? Nah, it's like Bergman's 'Persona'. Which one is Bibi Andersson, you think?
Hannah: Hey--what were we fighting about?
Kyla: Beats me. Let's do it again!